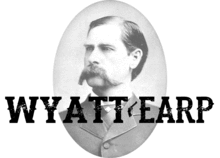 FOR IMMEDIATE RELEASE
Acadia Continues Pop-Up Series Southwest Style with "Wyatt Earp"
October 22, 2014 – Portland, OR – Following on the success of "Hogtoberfest," Acaida Bistro chef/owner Adam Higgs hands over the reins once again to his friend and colleague chef Kris Warneke for a trip to the Southwest.  On Sunday, November 9th at 5:30 p.m., Acadia's Louisiana cuisine shifts westward, serving New Mexico flavors that have been sorely under-represented in Portland's dining landscape, in the chefs' opinion.  The pop-up concept, dubbed "Wyatt Earp," plays off of the abandon of the Wild West and the law-abiding restraint of Earp, one of the sheriffs who killed several outlaw cowboys at the famous O.K. Corral shootout.
The set menu will consist of five hearty courses inspired by Southwest American regional cuisines with an optional beverage pairings from bar manager and mixologist Beau Burtnick.  Expect tongue-in-cheek cocktails like the "Prairie Justice" and "Waco Royale" that pack a serious wallop.  Supporting the grape-loving coiffeurs will be wines from Tom Glase, owner/winemaker of Balboa Winery, and winemaker for Beresan Vineyards, both in Walla Walla, WA.  Unofficial menu:
Rattlesnake chile "BIG" Nacho
Cornmeal fried American red snapper, habanero mignonette, pickled vegetables and cilantro salad
2013 Balboa Dry Riesling, Pepper Bridge Vineyard
Whole roast Kobucha squash stuffed New World-style with quinoa, turkey leg confit, piñon, goats milk cheese, dried cherries and chile
Virgil's Plate
Charred chorizos, pork shoulder carnitas with orange and anchiote, cumin-crusted green chile "duck chops," house-made flour tortillas
2011 Balboa Cabernet Sauvignon, Eidolon Estate Vineyard
Local sugar pumpkin pie with ancho-raisin crèma, its own seed and sea salt brittle and dulce de leche
2005 Beresan Late Harvest Syrah
Apple churros with cinnamon white chocolate
Dinner will commence at 5:30 p.m.  Tickets are $70 in advance through Brown Paper Tickets, and $75 at the door.  Optional beverage parings will be available a la carte.  As the restaurant will be serving one seating for the evening, spots is limited, and advance reservations are highly recommended.  
About Acadia
Located in the Sabin/Irvington neighborhood of Portland, Acadia has been serving modern American cuisine rooted in Louisiana food traditions for the past ten years.  The restaurant uses locally-grown fruits, vegetables and meats, as well as exclusively wild caught seafood from the Gulf coast and Pacific Northwest.  The restaurant is located at 1303 NE Fremont St. in Portland.  For reservations, please call (503) 249-5001.  www.acadiapdx.com.
###