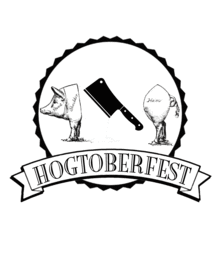 ACADIA SUNDAY POP-UP SERIES PRESENTS
Autumn's first (unofficial) holiday celebrates the porcine harvest and unites all carnivores in the name of the pig. Vivé le boucheríe! 
Who: Chef Seamus Foran, Acadia Sunday Pop-Up Series
What: "Hogtoberfest," a 6-course pop-up dinner featuring dishes inspired by the Cajun tradition of la boucherie, the communal butchering of hogs
Where: Acadia: A New Orleans Bistro. 1303 NE Fremont St. Portland, OR. 97212
When: Sunday, October 5 2014 6:00PM
$65 advance, $70 at door. Optional beverage pairings a la carte
Out in the switchgrass of Louisiana, where roads slice through wildflower fields and crawfish paddies, locals hold onto tradition. This is Acadiana, and it's where you'll find folks coming together in the Fall for la boucherie. Families gather in a yearly practice that is part slaughter, part cookout, and all celebration. The communal harvest of a hog is an "all-hands-on-deck" affair, with several neighbors 
assisting one another in tasks that could never be done alone. No scrap of the animal goes to waste; much of the meat is stored for curing or later consumption, but a substantial amount of fresh pig gets cooked on site and enjoyed over the course of a chilly afternoon. Beers, Zydeco accordion, and lively conversation abound, as friends and family graze on the bounty of cracklins, trotters, boudin and backbone stew.
In the spirit of this celebration, The Acadia Sunday Pop-Up Series presents its inaugural installment, Hogtoberfest on October 5. The event is curated by long-time Acadia Sous Chef Seamus Foran and will feature six courses of porcine mouth-to-tail delicacies, including Head Cheese Terrine, Pork Jowls, and Trotter Confit, to name a few. Bar Director Beau Burtnick has developed a list of beverage pairings (optional) with a strong beer and beer cocktail influence, apropos of la boucherie's picnic-y feel. Advance tickets are available online through 
hogtoberfest.brownpapertickets.com
, and are recommended, as limited seats are available for this one-time event.